Used FIAT 500 Abarth
Inventory
Get Financing
Service
Find Parts
Contact Us
Pre-owned FIAT 500 Abarth at Brown Daub Fiat for Easton, PA
Meet the FIAT 500 Abarth, a powerful yet trendy car that performs well and has Italian influence. Throughout its life, this great car has obtained several renovations to suit various prospective owners. This car is compact, seats four and has two doors, but is still spacious with room for people. It has a hatchback with lots of storage space, and has many features to make for not only an original car but one that gets people to their destination safely.  It offers a convertible for passengers to enjoy the sunshine on warm days. Even if you're not using a convertible, you will have great visibility. The car offers excellent fuel economy, and multiple warranty options. You should keep reading to learn more about a car that you will not regret buying with its attractive composition and capabilities.
Under the 500 Abarth's Hood
Pirelli tires help occupants drive through every weather condition. A 16-valve, 1.4-liter MultiAir turbocharged engine provides 170 lb-ft of torque at 2500 revolutions per minute (rpm) and 160 horsepower at 5500 rpm. That engine comes with a fashionable gearbox and a C510 five-speed standard shift. The engine comes with a single overhead cam (SOHC). The 500 Abarth uses unleaded, premium gas and may hold 10.5 gallons inside the tank. This car will give you front-wheel drive and Variable Valve Timing (VVT). There is an Intercooled Turbo Compressor and limited slip differential. Driving an Abarth makes it easy to be in a fast lane on the highway; you will be passing everybody instead of the other way around. You may receive up to 28 miles per gallon city and 34 miles per gallon highway.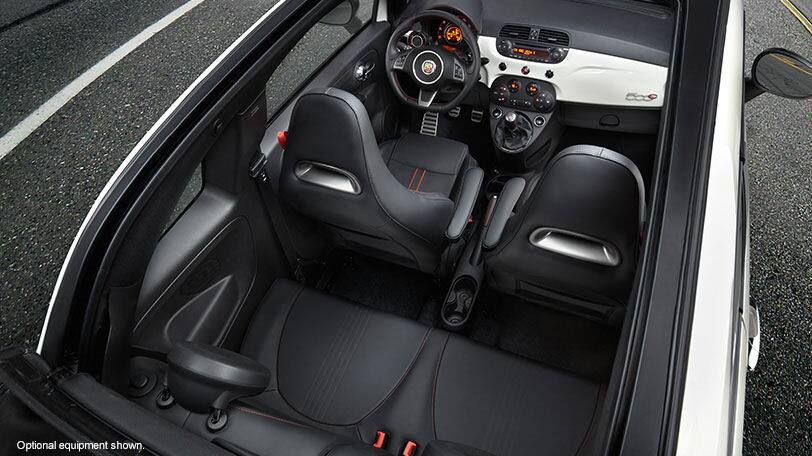 Design of FIAT 500 Abarth
Take the top off the car by simply pushing a button while going as quick as 60 miles per hour (mph). Your roof will open as far as behind the back passenger's head restraints when driving at up to 50 mph. Sixteen-inch aluminum wheels with many spokes are standard, and 17-inch wheels make themselves available. Memory seating is available to get some extra comfort. Stripes make themselves available for the car's exterior. A granite-crystal color presents itself to prospective buyers. This vehicle has power door mirrors, and heated seats are available. You may get Bluetooth for the car. The car has space for 30.2 cubic feet worth of belongings, and has a back window wiper to clean the rear window off in messy weather.
May this car come with electric power steering?
Yes, the FIAT 500 Abarth exists with power steering.
Can I get this car with a leather steering wheel?
Yes, this car may be avaialble with a leather steering wheel.
Where can I read about your Low Price Guarantee?
Right here: Click for info
Conclusions
The 500 Abarth has keyless power door locks to keep the vehicle secure without needing to manually lock it. Tire pressure monitoring alerts the driver when they should fill the tires with air. You will feel safe transporting young kids around with this car's child seat anchors. This vehicle has 4-wheel anti-lock brakes (ABS). The car has front and rear disc brakes and front and rear airbags. The 500 Abarth, while going at 60 mph, will come to a complete stop within 123 feet. The vehicle has traction control and an alarm system. The front fog lights help the driver through messy weather, and quick steering allows you to make emergency turns with no problems. Come see why the FIAT 500 Abarth has been such a well-liked vehicle.
Read Our Other Reviews
Used FIAT 500
Used FIAT 500c
2015 FIAT 500L